Self Guided Tour Types
We offer two broad types of Self Guided New Zealand Motorcycle Tours:
Custom Self Guided Tours, and Fixed Itinerary Self Guided Tours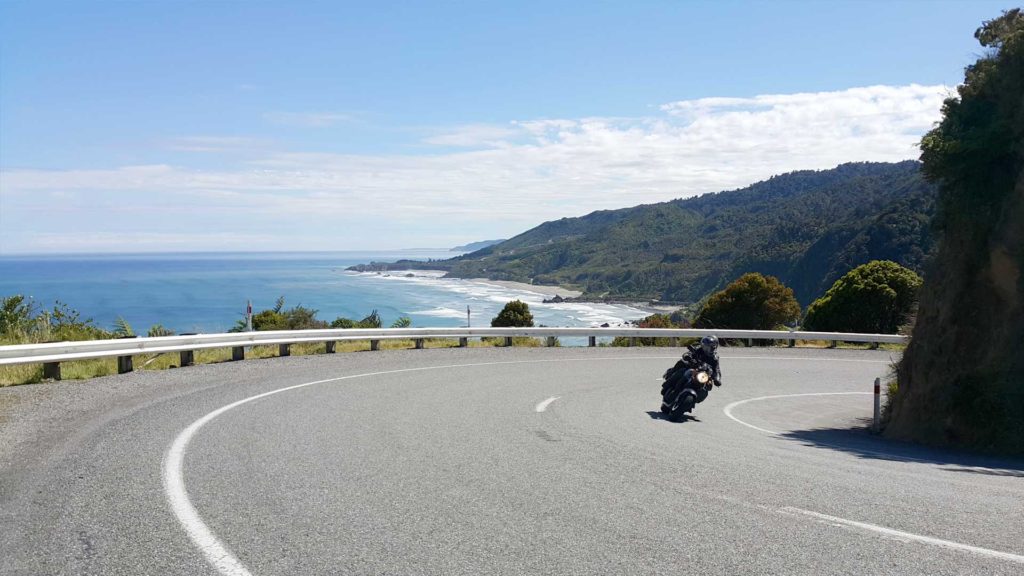 Custom Self Guided Tours:
A Customised Self Guided Tour is a highly integrated, itinerary package designed especially for you, to suit your personal preferences, the amount of time you have available, the specific dates etc.. We start by having a detailed conversation with you via email or, preferably, Skype or good-old-fashioned telephone :-), where we discuss your options, likes, dislikes etc.
If you want to get in some golfing, skiing, diving or hiking, and you'd like all this woven into your motorcycle tour, or visit some specific place or partake of a special activity you've read or been told about, then this package is for you. Having learned of your preferences, dreams and desires for your tour, we then get to work and create a highly personalised, and highly detailed custom itinerary for you. It's a labour intensive process, but we're quick and efficient, and we love this type of work. It's all in the detail, the careful timetabling of each day so that it all flows together in one smooth, effortless enjoyable experience. Preparing a Self Guided itinerary is a bit like conducting an orchestra.. 🙂
Fixed Itinerary Self Guided Tours:
Our Fixed Itinerary packages offer great value for money, trading off detailed custom preparation of an itinerary for lower cost. Based on our detailed tourism knowledge and experience of New Zealand built up over the last 17 years, we've created a number of pre-prepared fixed itineraries ( e.g. 7 day Top of The South Island, 7 day Lower South Island, 12 day Full South Island etc) that clients can pick and choose from. Having them pre-prepared saves us a great deal of preparation and research time, and we pass this on in the form of lower costs. Typically Fixed Itinerary packages use motel style accommodation in towns where good quality lodgings are able to be found.
We still include the best off-the-beaten track roads, the best scenic roads, and we will weave in the special experiences along the way – where to find the best food ( and where to avoid!), the best activities, and we still include detailed diary and scheduling information, maps etc in your map booklet. Perhaps you have 10 days available and you're flying into Christchurch. You choose a 10 day Fixed Itinerary Self Guided tour from our list of available itineraries, you make your booking with us, and we go ahead and prepare the itinerary for you according to the parameters of that particular itinerary. Of course, the lower cost is a trade off, and the trade is that we cannot make amendments or custom changes to Fixed Itinerary Self Guided – they simply follow our pre-formatted itinerary.
If you need, or want your tour tweaked here and there, and you have unusual or special requests (for example, you plan to get married while you're in New Zealand and would like us to arrange a celebrant, or you're a caver, and want caving opportunities woven into your itinerary), then you're better to choose one of our Custom Self Guided Tours. Both Self Guided Tour options, both Custom or Fixed Itinerary are for those who want to be sure they're not missing out on the best roads, the best sights, the best activities, the best restaurants… but who feel they don't want a Guide or a group with them. It's a very Monty Pythonesque package, it's a Guided Tour..but without the Guide (remember the Spam Sandwich skit?). We can provide you with a Self Guided Tour of any length to suit the time and dates you have available. Still not sure a Self Guided Tour is for you? Please read some of our client comments to help put your mind to rest: Click on the links to view.
---
Self Guided Tour Testimonials
I would unreservedly recommend GoTourNZ to anyone considering renting a bike or doing a tour with them
We have just hired two bikes from GoTourNZ. In all my dealings I found John to be extremely professional and he's one of those people who always respond to emails and phone messages immediately – an absolute pleasure to deal with.
The condition of the bikes were good and both ran perfectly on our 2,000km trip, neither missed a beat and we experienced no issues whatsoever. Scott Baker has obviously maintained the bikes very well.
I would unreservedly recommend GoTourNZ to anyone considering renting a bike or doing a tour with them.
Thanks to John and Scott for a truly memorable trip around South Island.
Rob Kimble
Self Guided Tour
I can't thank you enough for making Joe's birthday experience the one I had hoped for
Hi John…
We just wanted to write to tell you what an amazing experience we had and it was because of 2 things…
Your beautiful country…and YOU!!!
We could not have asked for anything better. It was so well layed out…so many little details thought of and over the top service you provided.
I can't thank you enough for making Joe's birthday experience the one I had hoped for.
Kim
now Joe….
John,  well done! I so enjoyed all of the B&Bs, side hikes and COFFEE spots.
The bike was perfect and flawless to travel on. I hope to stay in touch and we have a few amazing photos that may work for you. Picton was not really in our plans.. but we enjoyed a hike around the sound and the twisty road of the Charlotte sound. please let's debrief sometime on a skype call.
All the best,
Joe
Kim & Joe Fiske
Self Guided Tour
We were blessed with good weather throughout and the scenery is breath-taking
Hi Guys,
I would like to take this time to thank you both for providing Jackie and myself with an experience we will treasure forever. The entire trip was completely hassle free and everywhere we stayed the people were delightful and very helpful.
We were blessed with good weather throughout and the scenery is breath-taking.
If we ever get the opportunity to head that way again I will definitely re-use GoTourNZ.com.
I believe you are starting a French tours company providing similar services as many of the accommodation owners mentioned. If this is the case when we head over that way we will look to see what packages you offer there also.
Once again many many thanks and all the best.
Regards
Alan Naylor
Alan & Jackie Naylor
UK
Self Guided Tour
I want to thank you for the trip of a lifetime
From: Carolyn Kusler
To: Ian Fitzwater
Subject: Re: thank you
Ian and all, I want to thank you for the trip of a lifetime.
I have many cherished sites stored in my mind that I can return to and find peace amidst the hectic lifestyle we can't seem to escape here in America.
I have been telling people about the wonderful tour you put together for us. My cousin is going to plan a trip to NZ but he and his wife would not be interested in riding the motorcycles. I am assuming you can provide a similar tour with car rentals?
Again, thanks so much for the wonderful accommodations and tips regarding what to see and where to stop for a midday treat. The experience was incredible.
God bless your business,
Carolyn
Carolyn Kusler
USA
Self Guided Tour
Just when we thought we had seen the ultimate view we turned a corner and found another
From: Bob Jennings
To: Ian Fitzwater Jnr
Cc: Ian Fitzwater
Subject: Thank you.
Ian, John and Ian Jnr,
Sally and I have been back at home for half a day and are already missing the freedom and freshness of New Zealand.
We have had a superb 4 weeks in your beautiful country and although it's always nice to come home we have some special memories to hold on to for life.
Our time together on the Tiger was of course the 'jewel in the crown' We covered 2600 kms in the 10 days and can't believe that anyone could have witnessed more in such a short time. Just when we thought we had seen the ultimate view we turned a corner and found another. This was of course helped by only experiencing just 10 mins of rain as we left Kaikoura. The route was fab!
I appreciate that you are running a business where customer satisfaction is of paramount importance I therefore want you to know that this has been achieved for Mr and Mrs Jennings. We thoroughly enjoyed the route, the accommodation and the warm welcome received wherever we went. The Tiger, though not the most glamorous of bikes, was perfect for the job.
I hope the coming year is a successful one for you all.
Best wishes and thanks,
Bob and Sally Jennings
PS Please convey our special thanks to your mum – she was the perfect host.
Bob & Sally Jennings
USA
Self Guided Tour
The bikes were new, accommodations were first class, meals and wine selection excellent as well
My wife and I toured the South Island of New Zealand for 12 days with GoTour New Zealand Bike Tours. It is very hard to describe everything we saw; but it was like driving thru a giant photo album. The tour company was top notch and it turned out to be an excellent decision to use them. We saw and did more than we could possibly have done on our own. The bikes were new, accommodations were first class, meals and wine selection excellent as well. (I have not been hired to voice these comments). So often people only hear negative comments. A trip to New Zealand was something we'd wanted to do for quite a while and we're glad we were able to go. If it's something anyone is contemplating, these are good people to use for your trip. If anyone would like info; contact me.
(This comment was first published on the BritBike.com forum)
Bill Bassett
UK
Self Guided Tour
It was a real dream come true for the both of us to ride in the South Island on such a beautiful bike!
We both wanted to say a big thank you again for everything you did for us on our honeymoon! It was a real dream come true for the both of us to ride in the South Island on such a beautiful bike! Vic has always been keen on motorcycles and to ride a luxury machine up the Kaikoura coast was his highlight of the honeymoon for sure!
Hannah & Vic Berry
Self Guided Tour
Unbelievable the whole way round
This article was first published in www.motorcyclenews.com
Hi I'd like to tell you about the 4,000km Tour of a lifetime we have just completed and are still buzzing about! This was a holiday to celebrate our 30th Wedding Anniversary and my wife's 50th Birthday and we wanted to do a good job of it!
We booked a tour of New Zealand's South Island with GoTourNZ based in Nelson. They did everything, from the hire of the bike to the booking of all the
accommodation on-route and pre-booking the activities we wanted to do as we went. We did Jetboat rides, helicopter rides over the Glaciers and to Milford Sound, swam with dolphins, everything except a bungee!
This was a two week tour of the South Island on a BMW R1200GS starting from Nelson and then going through Hanmer Springs, Franz Joesph, Te Anau, Milford Sound, Queenstown, Mount Cook, Christchurch, Kaikoura and finally back to Nelson.
A total of 4,000km with a lifetime of memories from every kilometre. Anyone doing this has to stop off in Nelson before you zoom off because it is a beautiful place to see in its own right. We stayed for three days before the ride to get over jet lag!
The best moments: Everything, it was unbelievable the whole way round, wall to wall sunshine and amazing scenery throughout. If there was a highlight it was watching the moon rise over Mount Cook from the Panorama Restaurant, amazing. Also meeting up with four Blackbird owners I knew from the Bird website at home, they all lived on the North Island and came down for a tours themselves, so we met up for lunch at Picton
The scariest moments: Two really, one was where the Railway shared a bridge with the road! It said 'Give way to Trains' as you got onto it! The second one was going through the Homer Tunnel on the way to Milford Sound. A wet, unlit downhill single track tunnel full of potholes, it was the only time I can ever remember being grateful to follow a car.
The worst moment: Getting caught for speeding on the second day. Only doing 5kph over the limit but I was so gob smacked with the scenery I didn't notice. I got an $80 fine, which I forgot to pay when we left NZ, however they sent a nice reminder home this week which was duly paid.
Thanks to:
Ian Fitzwater who set this up for us. The accommodation was of unbelievable standard, breakfasts in rooms, wine with the owners before dinner and everyone was so friendly.
Next trip: We always tour the UK for two weeks and this year is no different, however we are definitely going back to NZ to visit some of the places we stopped at for longer and to also see some of the North Island.
We've been hooked. Although we thought it would be a one off, we are definitely going again, looking at the photos how couldn't we.
Russ Quinlan
Scotland
Self Guided Tour
The most magical moment of all was swimming with the dolphins in Kaikoura
You've met the person you're going to spend the rest of your life with, you've had the most fantastic wedding day imaginable and now you want to mark it with the trip of a lifetime. This is your chance to fulfil all those travel dreams of visiting exotic Pacific Islands, walking the Great Wall of Chine or trekking through rainforests. For Caroline [33] and Mike Wilkins [39], their honeymoon gave them the chance to experience a motorbike trip around New Zealand, taking in the majesty of a country that combines beautiful countryside with prehistoric geysers, stunning ski fields and rugged coastlines.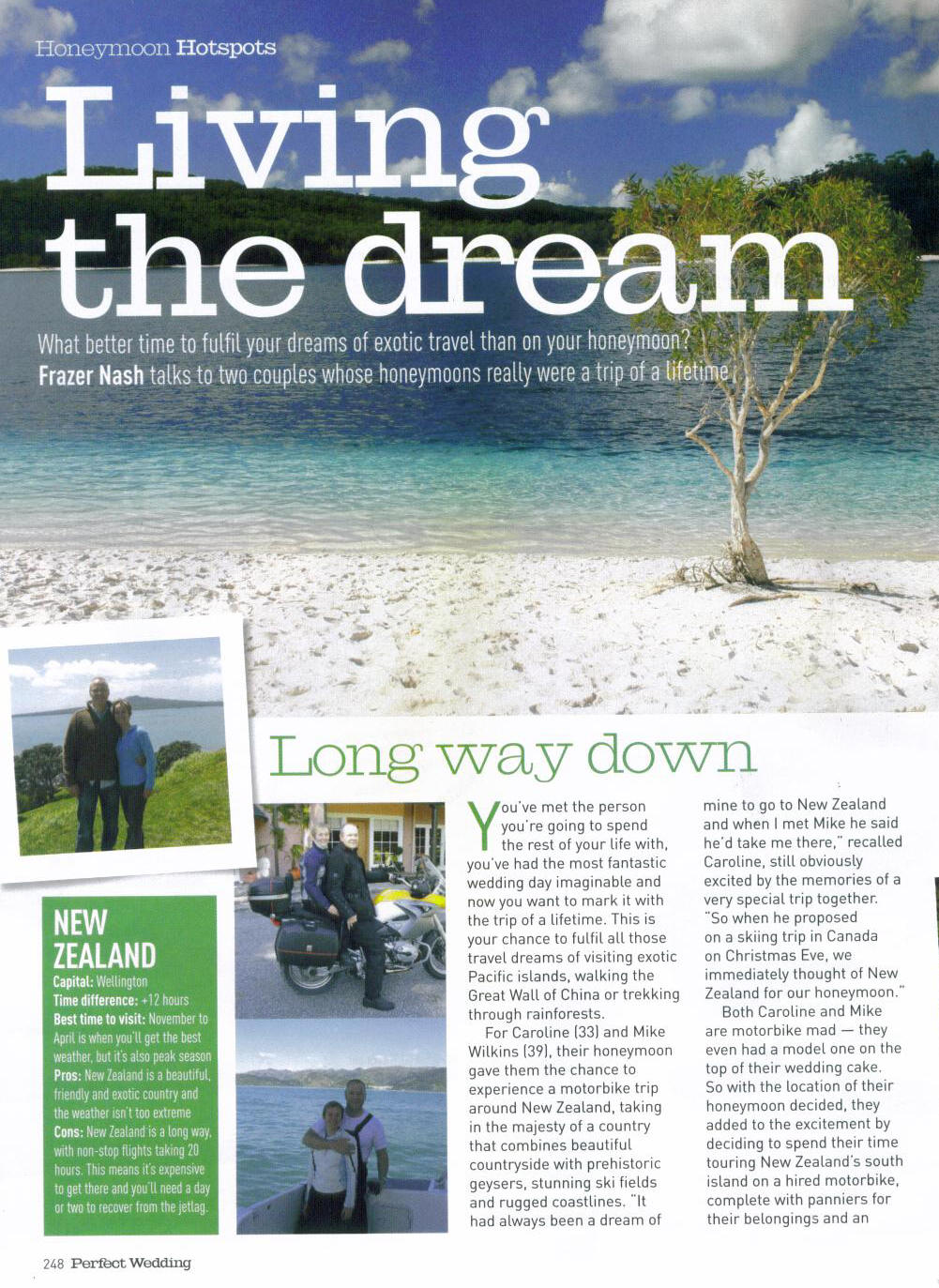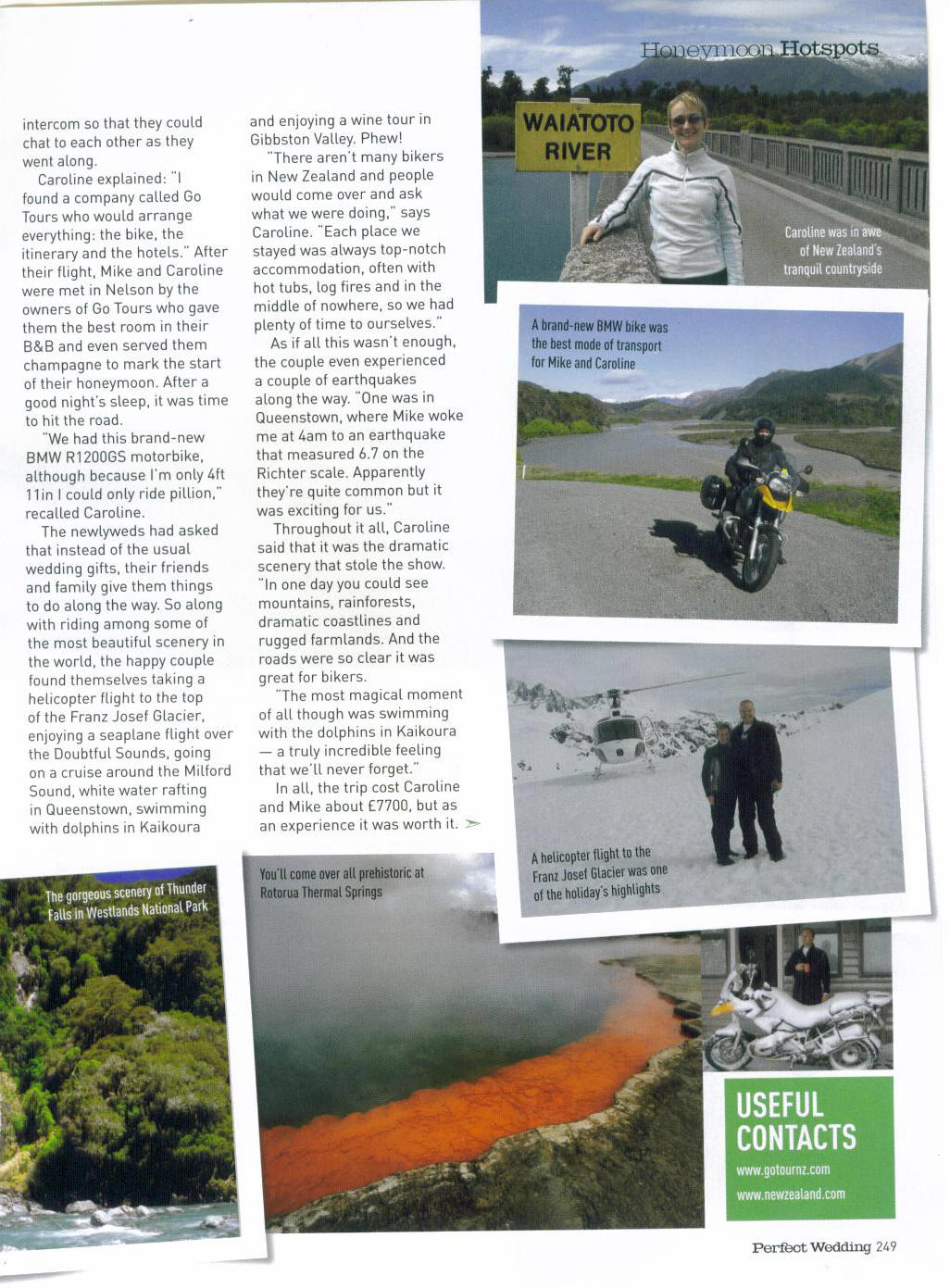 Caroline & Mike Wilkins
UK
Self Guided Tour
I had a fantastic time and would love to repeat the experience
Now that I'm at last back in
the UK – and more wind and rain!! – I just wanted to drop you a quick note to give some feedback on my trip. I have to say that I found your organisation, attention to detail and choice of accommodation of the highest order.
I was sightly apprehensive about the quality of the accommodation – given my experience of b and b here in the UK – but I was delighted with your choices. Almost without exception, I was also really impressed with the hosts who seemed to well understand biker's needs and went out of their way on occasions to accommodate.Lloyd (Rotorua)left a lasting impression in particular –
lovely guy.
The routing you chose was also ideal for what I wanted – although a couple of local tips – from the hosts – added to the experience with variations on your suggestions. I did bump into a couple of your competitors guided tours on the road –
they were desperate to see the "book" but I told them that if I let them see it,I'd have to kill them. Personally I found it an invaluable tool.
John and Jo were good enough to share a dinner with me in Nelson which was a really nice gesture as well – and Linda made the best breakfasts!!
The bike was great – I'm glad I listened to your advice not to go with a VFR! – and the luggage worked really well – you attention to detail in the inclusion of the little blue pack in the topbox was great.
All in all, I had a fantastic time and would love to repeat the experience – but building on my learning – from a biking perspective – perhaps focussing on S Island for 2/3 weeks with a few more 2 night stays to allow me to absorb a
little more of the places I stay in.
In the meantine , thank you and John, and the rest of the team for a holiday which will live with me forever.
But don't tell everyone the secret- its great the way it is.
Bert Martin
UK
Self Guided Tour
One of the best trips we have taken on the motorcycles,bar none.
part of the conversation centered on our great trip to NZ with you. It obviously is one of the best trips we have taken on the motorcycles,bar none.
Don Brooks
USA
Self Guided Tour
The scenery was incredible
Thought I'd drop you a note to let you know that we thoroughly enjoyed our time in New Zealand, all
thanks to you. The scenery was incredible, and the people even more so! I thought I'd send you a critique of the trip (things that could have been better) but I can't come up with anything. Other than the rain, and I suppose there's not much you can do about that!! (Well, and there was that problem with starting the bike!) All in all, the best vacation we've ever had!!! . Thanks again! NZ is definitely on our list of places to return to.
Tom Drew
USA
Self Guided Tour
Dale and Judy Knuth
Just wanted to drop a line and let you know How much we enjoyed the trip, the country and your hospitality. I have not traveled to many places that I would not like to call home as was New Zealand. The South Island is a must for the first vacation to NZ. We are glad that we found you on the Internet and how responsive you were to helping us meet out needs for a great
vacation. Judy and I want to Thank You for one of the most wonderful times of our lives. This also was achieved with the selection of the bike. Very satisfying to experience such a fine ride.
It amazed me to think it has been 4 months since we were there and it still feels like yesterday. We do remind ourselves of all the fun when sharing all of our pictures to our friends of our trip there. The reaction we get is of awe but I tell them, "yes it is beautiful but to be there is overwhelming."
I want to end with a Thank you for being so nice and accommodating and helping in our decisions for our trip. We will always remember you and our experiences. Great Times are never forgotten.
Dale and Judy Knuth
USA
Self Guided Tour
Attention to detail, high quality bikes, instantaneous and more than satisfactory responses to issues that might come up (invariably but very few) were the hallmark of my experience with GoTourNZ's operation.
I have been to NZ touring on a motorcycle twice. The first time was with the GoTourNZ competitors (there are really only two large firms offering high quality guided and self-guided tours dependably in NZ), the second time with the Fitzwaters. As a result, I think I'm in a pretty good position to assess the two firms; I can tell you that the Fitzwaters' operation is far (and I mean, FAR) superior. Attention to detail, high quality bikes, instantaneous and more than satisfactory responses to issues that might come up (invariably but very few) were the hallmark of my experience with GoTourNZ's operation.
In terms of the self-guided tour, I can tell you that I came close to making a huge mistake in this area. I was going to set up my own itinerary and accomodations (like I do when touring here in the U.S.), but (fortunately) Ian talked me out of that plan. I can tell you that I would have missed a number of fabulous sights, locales, and opportunities had I proceeded on my own – although I'm still glad I did the self-guided tour (just my preference).
The materials that John and Ian prepare for the self-guided tour is superlative, including giving you two or sometimes three routes you can take from point to point, depending on how long you want to ride that day, and the weather (by the way, when they indicate things like : 'can be windy at times', and 'road is somewhat narrow', consider them significant understatements!).
The locales they had me stay in were almost universally memorable, with a couple of locations that I think of to this day with great fondness (try to get them to put you in the Tokarahi Homestead, Ian's place in Nelson, the corner room w/balcony overlooking Mt. Cook, and the Cedar House in Gisborne).
In summary, this is a high quality operation with a couple of gentlemen who will make certain that you have a trip of a lifetime – I know I did.
Jeff Luftig
USA
Self Guided Tour
Thanks for organising such a brilliant tour.
We had a great three weeks, thanks for organising such a brilliant tour. We've seen enough of NZ to know there's plenty more to come back for. We've got lots of memories (and photos) to keep our imagination and enthusiasm alive. Keep doing what you're doing 'cos we're coming back!
Peter & Elizabeth Bell
UK
Self Guided Tour
We had a great time and will always remember the hospitality of you guys out there.
We had a great time and will always remember the hospitality of you guys out there.
Collingwood was a wonderful introduction to the Island, somewhere that was very special, not that far from Nelson, and was not overly inhabited. This is an area that Chris liked very much. The trip onto Farewell Spit with The Original Tour is a much talked about event with us both. We actually liked the Pub in Collingwood, probably the best salad we had all trip.
I think for me, the extra special day was the trip into the "wilderness" on the jet boat tour with Roger. It was exceptionally
informative and entertaining at the same time. Perhaps a few more days in this area may have been better for me. Now we have a little idea of what there is then we could adjust next time around.
I am not overwhelmed myself with good food and over exotic living, so I got a little fed up with rich food. As in Hamner we went down the pub and had pie and chips, great.
George and Chris Eltherington
UK
Self Guided Tour