What to Bring
Documentation
A valid passport with at least 6 months validity from the date you intend to DEPART New Zealand – failing to have this can lead to the Immigration Nazis really spoiling your day (e.g Go Home, E.T.!)
Your full unrestricted motorcycle driver's licence (no need for an International D/L, your national one will do)
Your credit card with enough reserve to cover the insurance deductible at least 🙂
If you're a member of the AAA (USA) or the AA or RAC in the UK/Australia, bring your membership card – you're entitled to free maps from our Automobile Association.
---
Motorcycling
Helmets are mandatory in New Zealand. A full face helmet is HIGHLY recommended – "beanie" style helmets without a faceshield may be cool in Death Valley at 100F, but in a NZ alpine cold snap, your ears will drop off 🙂 ; Don't say we didn't warn you 🙂
Protective/windproof motorcycle jacket & trousers – a 2 piece Goretex/Cordura Spidi/Dainese/Aerostitch/your favourite reputable brand riding suit is best. (Thunderbike stocks a great range of riding suits, from budget to the best available. And we can sell to you duty-free of course).
A one piece rain oversuit if you're bringing a leather jacket – just in case
Leather Gloves, medium weight, Goretex lined if possible. 2 pairs are nice – one light/summer pair, one warmer pair
Quality Riding boots (Goretex lined if possible). We do not have boots for rental.
Earplugs if you like 'em. We do.
A TankBag with clear map pocket/window is highly recommended (we have these available for hire). As many bikes these days have plastic tanks we have Baglux covers for most models. Note that paint damage and or scratches from tank bags will be on-charged, so ensure yours is paint-friendly, like our Baglux bags.
A large, soft carryall-type bag for putting all the additional things you may buy into.
A small day pack or bum bag/fanny pack.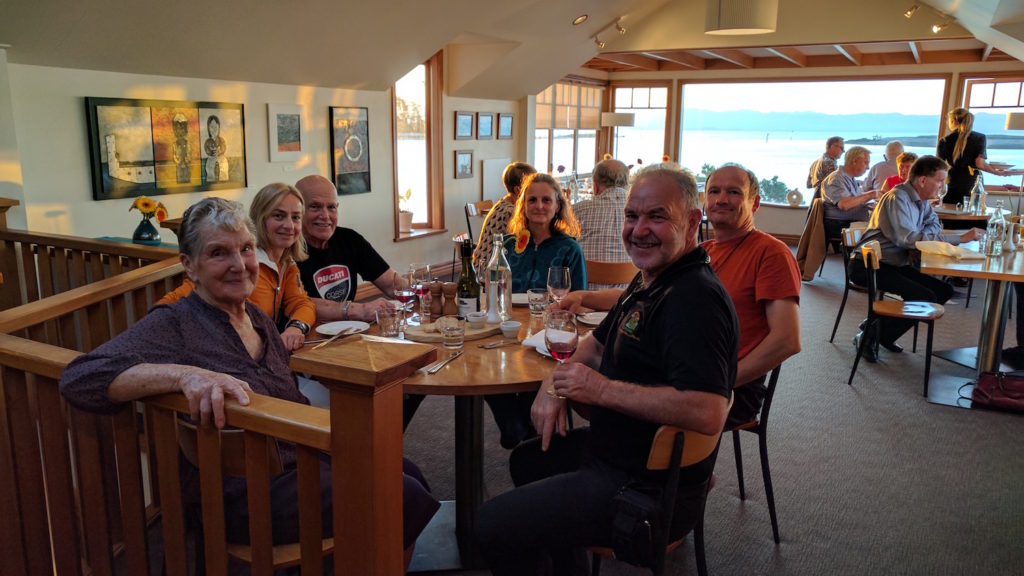 Regular weekend casual dress is fine for NZ restaurants.
---
Clothing:
We're a narrow island with an alpine mountain chain backbone, so we experience rapidly changing weather. It can be toasty hot one minute, then a few hours later chilly and cold… then a few hours later, hot again.
Bring clothing that will cope with temperatures ranging from 5C (40 F) to 30C (90F). Typically over summer you will experience temperatures of 16C to 24C (61F to 75F), though in Feb March we can get max. daytime temps of up to 35 C (100 F).
Leisure/Casual (not Business/Casual or Formal or) dinner clothes. NZ is a jeans 'n T shirt sort of place.
Warm pullover/sweater and thin pair of polypropylene/thermal gloves for glacier hike & colder evenings.
Shorts for hot days, maybe sandals to keep your feet cool.
Swimming gear (esp. if you want to do the Dolphin Swim)
As a suggestion for the number of pairs of shoes to bring 🙂 : You'll need something to ride in, something comfortable to walk in, and something casual/comfortable for dinner.
Most accommodations will allow you to use their laundry facilities – a typical load of washing costs from NZ$10.00 – NZ$20.00
---
Other Stuff:
On a Guided Tour, we (your guides) have a  notebook PC with us and we pick up our email twice daily. You're welcome to use the guide's PC to access your email, or to download photos via the USB or IR port.
If you bring your own laptop, many of our lodges, B&B's and motels provide either wireless or cable internet access. Many accommodation providers also provide a guest computer for internet access.
Camera – A zoom lens for wildlife shots like whale watching!  You can buy a disposable underwater camera for the Dolphin Swim.
Any appliances you bring – make sure they're dual voltage – we run on 220V 50 Hertz in NZ. We have adaptor plugs available for you.
A torch maybe.
Motion sickness medication if you need it.
Hairdryers are supplied in most of the B&B's and lodges we use on our guided tours