Client Comments and Testimonials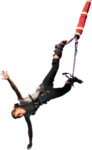 Throw yourself off a bridge with GoTouNZ.com, we'll be right behind you!
If you really want to know what happens when you ride with us, take a gander at what some of our clients think of their tour experiences.
If you'd like to speak to somebody who's been on one of our tour packages – email us and we can send you contact information.
These stories were unsolicited and have not been "edited". It's a case of "the good, the bad, and the ugly". One thing that's certain we're always learning new ways to improve our service and give you a better experience.
Rob Kimble
Self Guided Tour